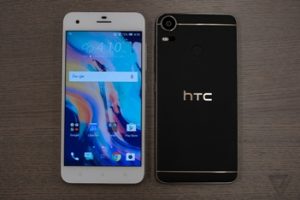 With a price tag of Rs 24,490, HTC Desire 10 Pro failed to impress us. With a cost of more than 24K, the phone has features of a 17K range mobile and does not meet the expectations of the users. When asked, users gave a rating of 3 out of 5 for the handset.
The phone displays a full HD screen with a size of 5.5 inch. Running on the latest Android (Marshmallow version 6.0) operating system, the device can be further upgraded to Android 7.0 (Nougat). Powered by 1.8 GHz Octa core Cortex A53 processor, the device lags at some places when many heavy apps are opened. The absence of a Snapdragon processor has caused the issue. This may be one of the reasons why the rating of the mobile is low.
The design of the mobile is quite similar to older HTC models. It lacks a unibody constructive design. Hence, it does not fail to disappoint the users in this section as well.
Coming on to the camera section, the phone features 20MP of rear camera and 13MP of front camera. Though the rear camera gives its best performance, the 13MP front camera does not seem to be more powerful enough. The selfies come blurred and are equivalent to that of the selfies taken from an 8MP camera.
In a nutshell, the HTC Desire 10 Pro had a lot of scope to be more desirable. If you have a budget of 25K, there are many options in the market other than HTC Desire 10 Pro.