Infinite numbers of people are always in search of a pair of socks which doesn't stink and spread foul smell; rather some of them don't even wear a pair. But the pair of smart sock may become a boon to diabetic ill person. Something different right?
A diabetic health care startup, Siren care, developed these smart socks to identify the inflammation and injury of the feet.
The overall development was conceptualized by Ran Ma, the co-founder of Siren care from Northwestern University. She was into a research for developing biomass to re-grow the skin which has been damaged which brought a thought to create wearable gadget that can track the injuries.
Majority of the individuals suffering from type 1 and type 2 diabetes have a common symptom of foot swelling and foot injuries, which may lead to major infections resulting in permanent damage to foot. The severity of the infection can be controlled and prevented by using some wearable devices.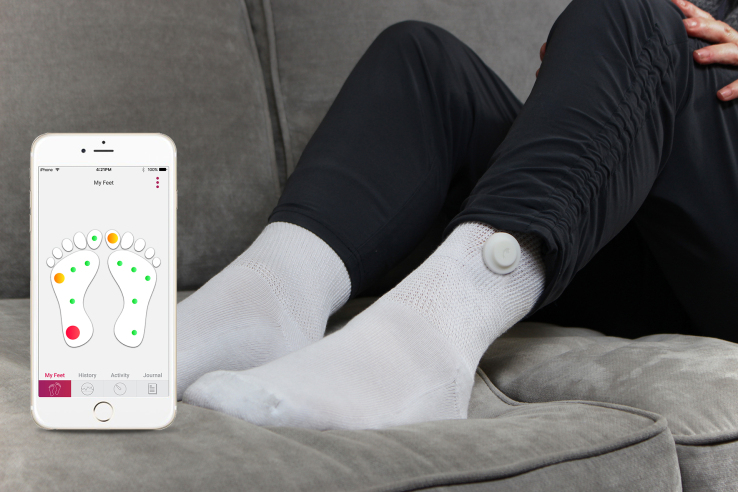 This kind of wearable isn't the first in innovation; SurroSense Rx is wireless device which can be fitted into the boots but Sirens socks overcome this technology mainly due to the complexity in fitment and increased weight. On the other hand Siren's smart socks are tailored with woven fabrics and sensors, which identify the change in body temperature, and detects inflammation and injuries.
Post detection, the data are communicated to the integrated app on a smartphone, seems to be simple right? Even if the injury isn't a serious one, a tiny cut on the foot can make brutal impact on a diabetic person.
The cleaning of these socks can be done through a normal wash or in a machine. In addition, smart socks are equipped with inbuilt charged battery which lasts up to 6 months.
The startup has also planned some smart ideas based on smart textiles to meet the future needs which will be totally based on sensors and other devices.
So let's sit back and experience the future coming devices to make our lives simple and healthy.