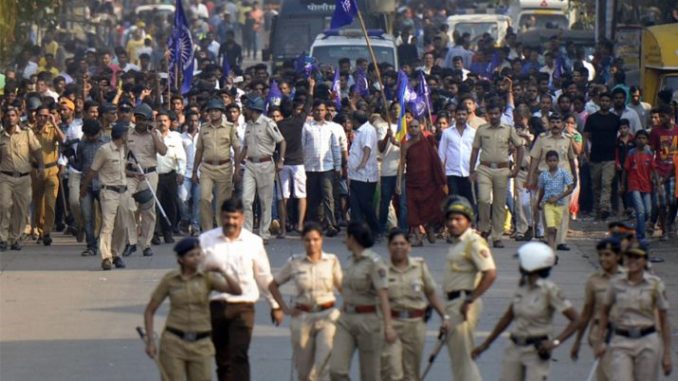 More than hundred people yesterday near Pune were detained in Mumbai today because many Dalit protesters blocked major Mumbai roads, interrupted the local train services at rush hour and forced shops to close over the caste clashes in which a man was killed. Riot police had to be vehemently called in today as the demonstrators threw stones and damaged a bus. The police said that one activist also tried to set himself on fire and was saved just on time. Dalit groups have also called for a Mumbai bandh tomorrow.
These groups were on their way to Bhima-Koregaon village near Pune to celebrate 200 years of the battle fought in 1818 when they were attacked and vehicles were damaged.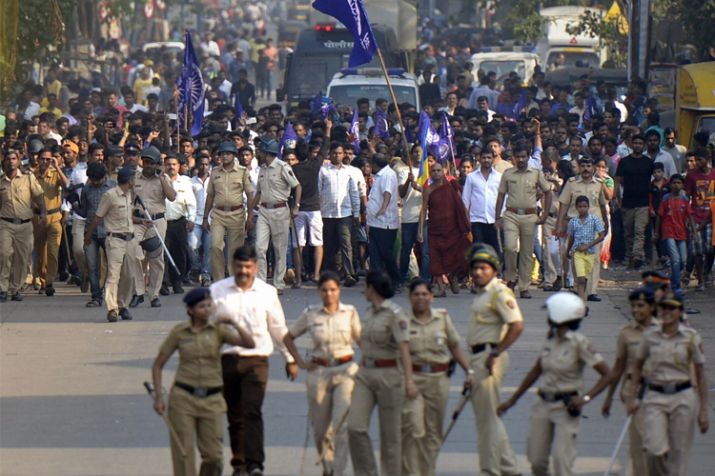 The police further said that they have made extravagant preparations in view of the call for shutdown. An officer said that extra forces have been requested and if needed, prohibitory orders banning large gatherings can be imposed. Sources further said that some areas have also been identified where internet could be put off to control rumors on social media.
Prakash Ambedkar, the grandson of Dalit leader BR Ambedkar and who leads a Dalit group, has also called for a bandh of Mumbai tomorrow. He said that 250 such groups are also supporting the bandh and also blamed some local rightwing leaders for Monday's violence.
The police further stated that a NDTV correspondent was attacked as groups of Dalit youth from Chembur, Vikhroli, Mankhurd and Govandi joined the protest and deployed heavy security in Mumbai's eastern suburbs, but they denied rumors of prohibitory orders banning large gatherings.
Maharashtra Chief Minister, Mr. Devendra Fadnavis has also appealed for peace and warned against spreading rumors on social media. The chief minister also ordered an inquiry by a sitting High Court judge into Monday's violent incident.