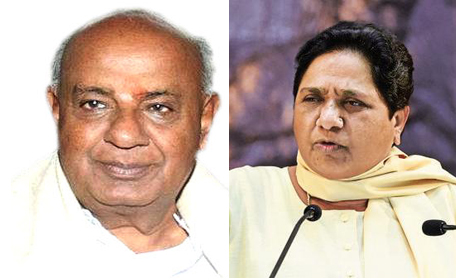 For the upcoming Karnataka assembly polls which are scheduled for April-May 2018, former PM Gowda and Mayawati, the BSP chief have come together for a mutual association.
This association was proclaimed in New Delhi by National General Secretary of BSP Satish Chandra Mishra and National General Secretary of JDS Kunwar Danish Alion Thursday. Out of 224 seats in Karnataka, 14 seats are of BSP while the remaining seats will be contested by JDS.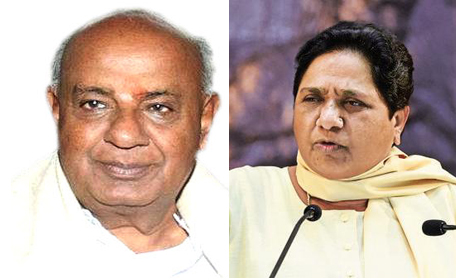 The reason for such a cave-in is believed to be Mayawati's diminishing magic in Uttar Pradesh. Whereas, Deve Gowda claims that the purpose of this agreement is to prevent the distribution of the votes of the Dalits in upcoming elections.
The BSP had contested in 102 seats in the Assembly elections in Karnataka during the year 2004 and had bagged 1.74% votes and at the same time in the Lok Sabha elections, they had candidates in 9 seats and had grabbed 1.22% votes. Back in 2008 Assembly polls, the BSP got a share of 2.7% votes out of the 217 seats it had contested. Things went out of this pattern when in the Lok Sabha polls in 2009 this vote share was reduced to 1.66% and BSP did not get any seat in the Assembly election that year.
Syed Zulfikar Hashmi was the first one to be elected from Bidar which is in North Karnataka in 1994 when the BSP entered the State Assembly elections for the first time.
JDS hopes that with the support of BSP it can add several seats to its own share of 15% in Karnataka. On the other hand, BSP is expecting to have their share in the game during this election with the support of JDS. BSP has settled for almost 20,000 votes in the seats it has in the state.