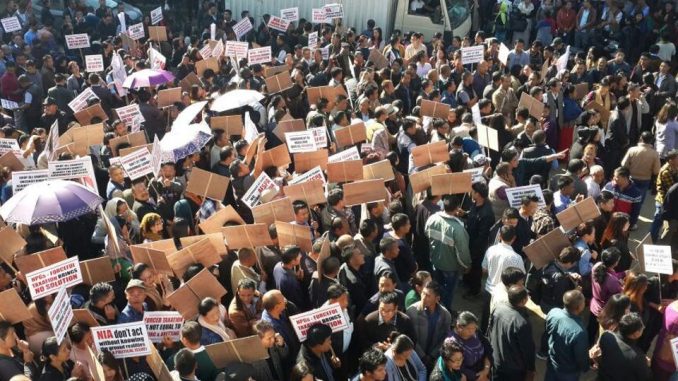 Government employees demand and ask for withdrawal of NIA probe: Over 15,000 state government employees came out a huge protest gathering in the heart of the city Kohima, a day before they demand immediate deferment of probes on government employees by the (NIA) National Investigating Agency pertaining to their demands of illegitimate taxation from NNPGs. In answer to the call by the Core commission comprising legislative body from FONSESA, CANSSEA, NF&ASA and NSSA, the gathering was held at the MLA Hostel Y-junction under the sponsorship of CANSSEA.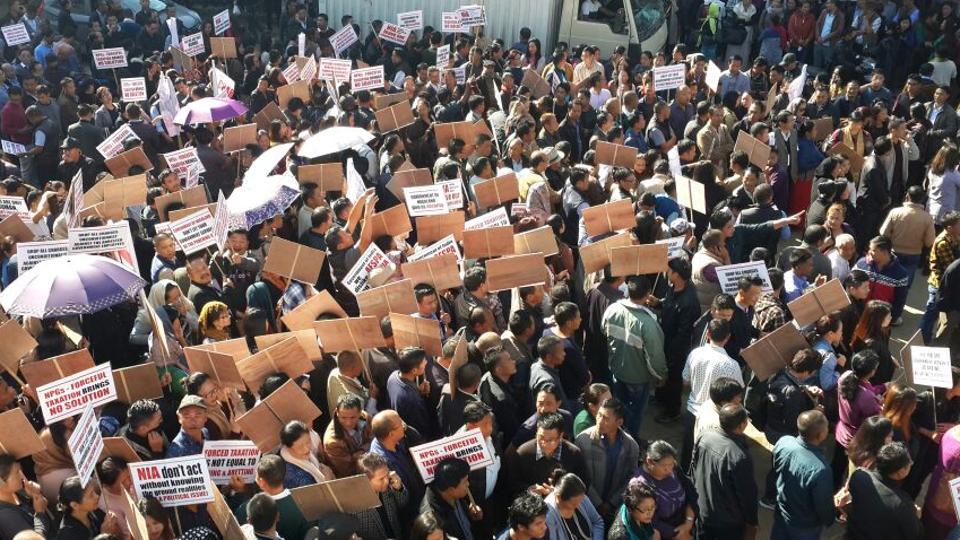 The Core commission advised that if NIA was not withdrawn straight away from the State Government, it (NIA) will then have to detain around 1.50 Lakh government servants in the State over the similar matter of payment for taxes to NNPGs. Displaying placards some which states, "Action Taken Under pressure Cannot Be Termed As determination and Anti-National" ; "NIA, We are just Humans; We cannot bear the disgrace and shame anymore", "Compulsory taxation is not equal to Abetting and Aiding", and so on, the employees later protest rally to Raj Bhavan where a memo was presented to the Governor called as PB Acharya. While addressing media people at the Tourism (directorate) after presenting the memo, CANSSEA president, called as Dr. Zase Chusi, stated that around 15,000 employees from all allied departments, both district and directorate offices under the city Kohima, participated in the peaceful rally.
A core commission associate also informed that the 2nd phase of the March rally would start soon if there were no constructive actions on the issues raised in the memo. The commission also added that a copy of the memo will be presented to the chief secretary and to the chief minister. Er Tsukti member of CANSSEA informed media people that the "lightning hit" taken out by NIA in approximately all the departments had created each state government servant feel apprehensive about his or her existence.
He said at the start that NIA had actually begged for information and facts where the well-meaning government employees disclosed whatsoever information and facts they needed legally. On the other hand, Tsukti said the complete work carried out by the NIA turned to be a terrifying picture when the organization started impeaching the government employees instead.