Multimedia consumption is one of the very important things that smartphones and desktops, along with laptops, are used for. Large number of users now prefer using PCs and smartphones for enjoying music and watching movies and TV shows. Even though using smartphones and PCs is convenient for this purpose, the audio output from their built-in speakers is average.
This is where the Bluetooth speakers come into the picture. As the name suggests, these speakers are a magical gadget that connect to your smartphones and PCs wirelessly and give a quality output making your experience of enjoying the media more valuable.
So if you plan on buying one, JBL is a name that needs no introduction. JBL, the Harman-owned company, launched its Clip 2 Bluetooth speaker in India. The question now is: For a price of Rs 4,990, is this speaker worthwhile to buy? Let's have a quick glance at its features.
Design
The Clip 2 has a drum-like design with a circular metallic speaker grille which covers the entire top section. It also comes with a tiny orange plate engraved with the JBL logo. This plate is located at the center of the lower half of the speaker grille.
Speaking of the lower section, it has a hard, rubbery construction with a matte-finish. Three buttons, out of five soft-touch buttons located in its outer periphery, are present on the left. These three buttons read: Call answer/Pause, Volume up, and Volume down. The other two, Power and Bluetooth, are on the right. Between the latter two buttons lies a thick rubber flap, which opens to show a microUSB charging port.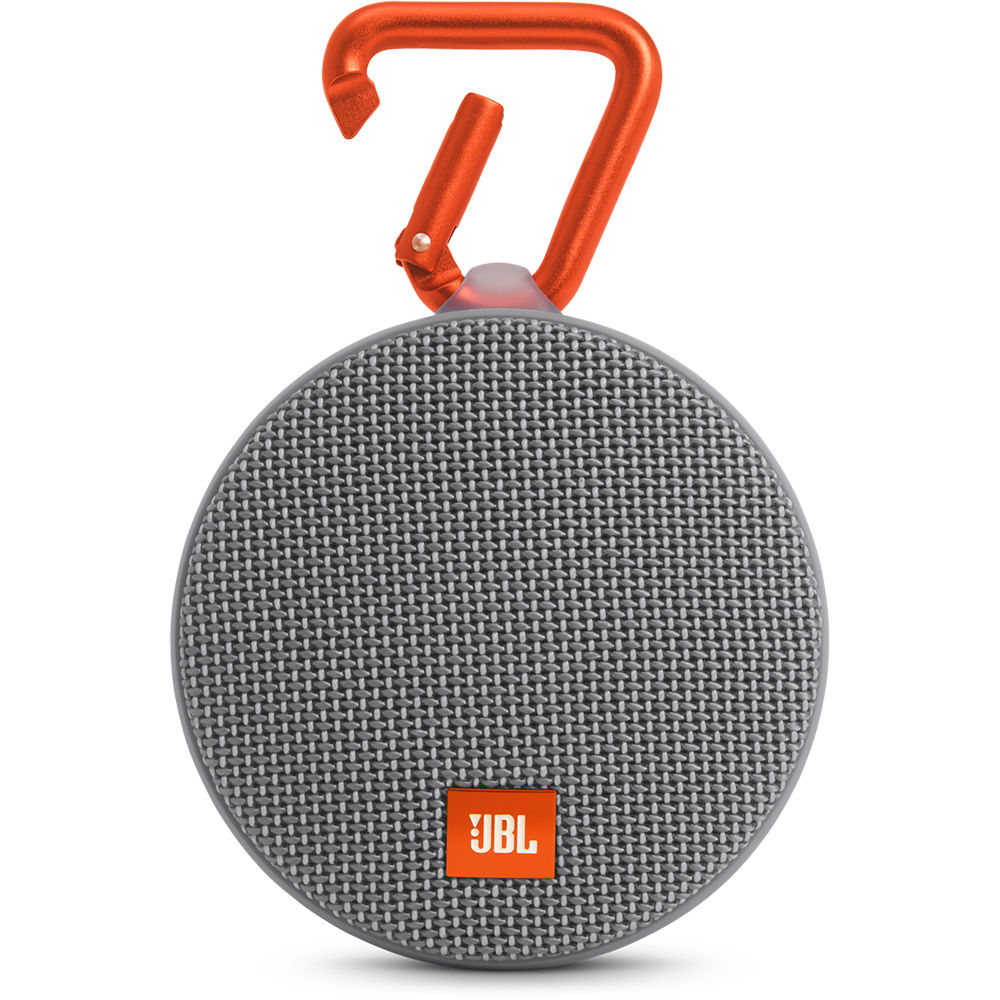 The JBL Clip 2 has a triangular carabiner which can be used to 'clip' (hence the name) it to anything from a rope to a backpack at the 12 O' clock position. Below the carabiner, there is a notification LED that glows/blinks in different colors to indicate different things. Last but not the least, the Bluetooth speaker has an integrated 3.5 mm audio cable that can be connected to devices that don't have Bluetooth.
The overall design of the JBL Clip 2 is quite good to be in limelight. Its clever design principles, especially the 3.5 mm cable puts the cherry on a mouth-watering cake. No complaints here.
Performance
Before using JBL Clip 2 to enjoy the multimedia, it is a matter of sound judgment to connect this thing to your smartphone/PC. And thankfully, doing so is a piece of cake.
For connecting any device to Clip 2, you follow the same traditional steps that you do in order to connect to any device via Bluetooth. When the JBL Clip 2 is playing audio over Bluetooth, you can use the call answer button to quickly pause the playback. But for some strange reason, the same button can't resume playback. Moreover, we have one more feature, which will make you rush the stores for Clip 2. The JBL Clip 2 is waterproof! This is phenomenal. Isn't it? The speaker last around 4-5 hours of music playback (wireless and wired). Even though is not a great battery life, but surely is not bad enough.
In short, the JBL Clip 2 comes with a great design and performance with a balanced and loud audio output, carabiner, waterproof, and a decent battery life. So if you're in the market for a Bluetooth speaker under Rs 5,000, the JBL Clip 2 is definitely worth consideration.